Some very obvious symptoms like the Dell error code 2000-0142 indicates that our hard drive is dying. If you are facing constant data corruption, long start-up time, repair screen after every boot, these could be the signs that your hard drive is failing. But without a Pre-boot System Analysis, you can't really tell. The error, that confirms your scariest nightmare comes into light only after you run the diagnostics
Now, don't burden yourselves with all these terms. All you have to do is restart your system and press F12 for the boot menu. From there you can select the diagnostics to check for any error in your Dell laptop. Or you can call BabaSupport for the assistance.
What Is Dell Hard Drive Error Code 2000-0142?
This Dell diagnostic error code Dell Hard Drive Error Code 2000-0142 means that your Comprehensive  Pre-boot System Analysis, or as it is known, ePSA, is not able to read your hard drive. Since it is not reliable to retrieve information from the disk, your system will have trouble starting. Windows will try to do a system startup repair but in vain.
If you see this Dell error code 2000-0142 on your screen after you run the diagnostic, don't panic. Ask the experts for help in deciding the best way out.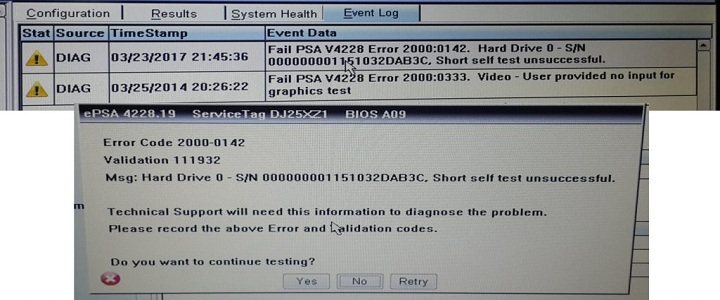 What Causes Dell Laptop Error Code 2000-0142?
There could be one of the few reasons why you are facing this error code in your Dell laptop.
Misaligned and faulty cabling connecting your hard drive and the motherboard.

Sometimes corrupted data or Master Boot Record on your hard disk might cause it to crash.

Mechanical damage to the hard drive.
Any of the above-mentioned issues can cause this error to pop up in your diagnostics. In case of hard disk damage, you can place a call to BabaSupport at their toll-free number. They can provide the repair or replacement service right at your doorstep.
How To Fix Dell Error Code 2000-0142
There are a few things you can do on your own for counteracting this error code in your Dell laptop. To begin with remove and reinstall your hard drive. If this doesn't work, you can try the other steps.
You can use your Windows installation disk and do a disk check in command prompt. Here's how you can do it.
Start the computer after inserting the Windows installation disk in the disk drive.

When prompted, press a key.

Select your language, time, currency and input method.

Click next

Or, you can also press F8 on startup and from the boot menu, go to DVD drive.

Select repair your computer.

Go to the OS you want to repair.

Click next.

Go to the command prompt in system recovery options.

Type

Chkdsk /f /r when prompted and hit enter.

This will repair the corrupt data and fix the bad sectors.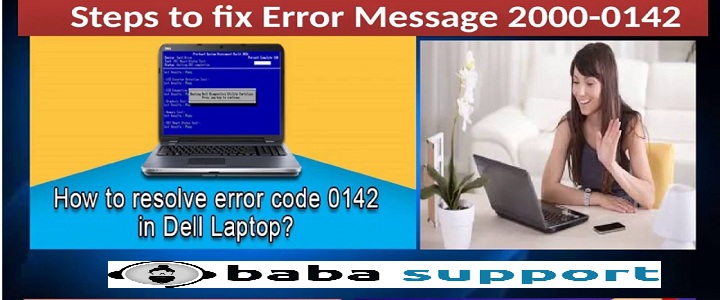 If the above-mentioned step fails to resolve your issue, try reinstalling Windows. It will repair any missing MBR data or corrupt Windows file. You can also try installing a different version of Windows. Before you try this method, make sure you have backed up your important files and data. If this doesn't solve your problem, chances are you need a repair or replacement for your hard drive.
Call BabaSupport For Repair And Replacement
If nothing above has worked for you, replacing or repairing the hard-drive could be the only option. You don't have to look anywhere. Just call on BabaSupport toll-free number: +1-888-796-4002 and place your request. Chat with the experts or mail your doubts. They'll get back to you immediately. The expert technicians will be there at your doorstep and will suggest you the optimum solution to dell error code 2000-0142.