Windows is the most popular operating system that has earned a huge customer base. Thus, Windows requires timely system updates to maintain its performance levels and features. While some users update their system successfully, there are others who are unable to update due to some technical issues. Error Code 0x80070652 is a Windows error you will encounter during the installation of system updates in Windows versions of 7,8 or 10.
So what happens when you encounter this error code? You are likely to see a pop-up message: "ERROR_INSTALL_ALREADY_RUNNING". This error means that another installation is in running state. Therefore, this error takes place due to the engagement between the existing system updates and the files that are yet to be installed.
Our Babasupport team works round the clock to help you with the most suitable solutions. So if you are not confident regarding solving the issue on your own, feel free to get in touch with us. Just give us a call and we'll get back to you in no time.
Error Code 0x80070652 – Know About Its Causes
This error is usually found in all the versions of Windows such as 7,8, and 10. But, you will find this error mostly on Windows 10. There could be multiple reasons behind the occurrence of this error depending upon the different PC models. Here are some of the causes that lead to this error:
Malicious Files or Files affected from Virus is one of the causes for the Error Code 0x80070652.

A system crash is a possible reason why this error may take place.

Downloading of another software while the Windows System is being updated.

Damage in the previously installed update packages. That is, the previous update package was not installed properly.

Multiple Installations at the same time is one of the reasons for the cause of this System Update problem. Windows is unable to run multiple installers at a time in a simultaneous manner.
These are not the only reasons that can lead to this issue. In fact, there can be other reasons too. You can have a word with us and we'll analyze the error and offer you the exact cause and it's a proper solution.
How To Resolve The 0x80070652 Windows System Update Error?
A common method to fix this error is to check for the updates that have previously failed to install properly. You can check it through these steps.
Go to Start. Type "Update" in the search box. Click on Windows Update from the given results.

Select View Update History from the left panel.

Now on the next Window that appears, find an update for Windows which has failed to install.

Now, double-click on the update to view more information.

The updates that have failed to install will now show Failed under the Status Column.

In the Windows Update Dialog box, you can find the Error details and review the error codes.
Through this method, you will find out the reasons behind the failure of your Windows system update. After getting the access to the codes for the failed errors, you can resolve the issue by getting the appropriate help from the Technical Support Team.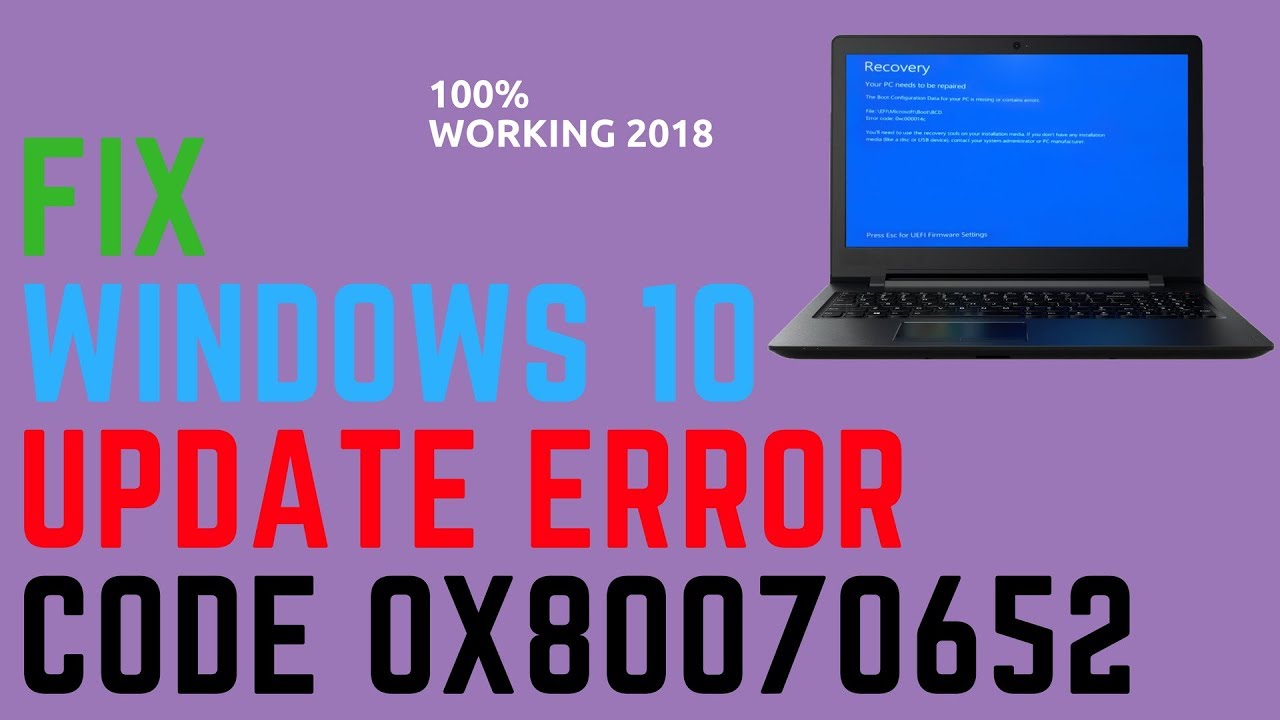 Get In Touch With Our Technical Support Team
In any case, if you could not find the suitable solution you were looking for, do reach out to our Technical Support Team to receive a quick fix for your queries.
We provide a 24×7 customer helpline facility so that you can let us know about your questions at any time of the day. Our experts will listen to your problems, and provide you with an accurate and suitable fix for your issues.
Call us at our Babasupport helpline number  +1-888-796-4002  to avail quick support from our Technical experts. You can also chat with us or mail us at [email protected]your queries. We'll respond immediately. Our sole aim is to offer solutions that will help you get rid of error messages once and for all.