Who wouldn't like to show off the great rig with multiple displays attached to a single computer? It does help in improving the workflow and makes accessing files and tools even simpler. Adding a secondary screen to Windows is pretty simple, but somehow with Windows 10, there are some weird problems. Windows 10 not detecting second monitor is known, and the common problem now and plenty of users look for solutions every single day.
So if you are facing a Windows 10 dual monitor not working error, no reason to worry. Here you can find some handy tips and tricks to resolve this problem. Usually, you should not face any such errors, but sometimes problems with display or some other driver can trigger the issue of Windows 10 not detecting the second monitor
Just remember that if you find this difficult to make the necessary changes, we are always here to help you fix the 2nd monitor not detected the error. Connect with the team of experts, and they will surely help you out Windows 10 not detecting second monitor problem 
Windows 10 Dual Monitor Not Working? Here are some probable fixes
Issues with display driver can be the issue. If your display driver is out of date or corrupt, the system will have problems connecting the second monitor. Rolling back the driver could help but if done incorrectly can add to the woes and create more problems. So let's move ahead and see how to make the changes to resolve the Windows 10 not detecting second monitor error.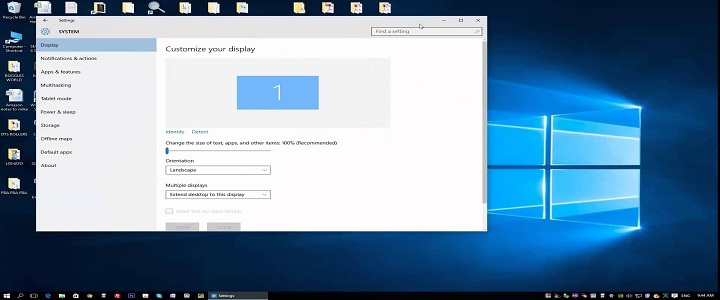 Rolling back display driver to the previous version
Often newer software releases can have problems like bugs and glitches leading to weird and confusing issues. So how to roll back display driver? Follow these steps.
Click Windows Start Button and type in RUN and press enter to start the function.




OR




You can also do the same by pressing Windows key and R at the same time

Now in the run box, type in the command

devmgmt.msc

and press enter

Right-click on Display Driver software and open its properties

Now select the Driver tab and select

roll-back driver

and follow wizard guided functions to complete the process.
When done, restart your computer. After rebooting Windows 10, check whether you are still facing Windows 10 dual monitor issues. This should fix the problem if done correctly. But if you always keep encountering the error, continue with the following alternate solutions.
Windows 10 Not Detecting Second Monitor | Some Alternate Solutions
Update installed Display/Video Driver
Windows has its display driver, and so does graphics card. Always remember if you have a graphics card installed, the underlying Windows driver won't work. Connect to the web and search for any pending updates.
Check Secondary Display Refresh Rate
When multiple monitors are connected to Windows, refresh rates play a significant role incompatibility. Monitor refresh rate is the number of times the connected display updates the image every one second. Some graphics cards and at times default display driver does not support two separate monitors with different refresh rates. It's better to use displays with similar refresh rates.
How to check to monitor refresh rates?
Before resolving the 2nd monitor not detected the error, check out the diagnose and ensure whether both displays match refresh rates. Just follow these steps.
Press the Windows Key + I. A pop-up window will be generated

Click on System on the pop-up window and proceed with the diagnosis

Access display adapter properties and check whether the refresh rates match

If they mismatch, change either one to match the other

Click Apply and OK to finish the task.
Now restart your system and try to connect your 2nd monitor. This should fix the problem and let you get a more immersive experience.

Still Facing Windows 10 Dual Monitor Issue? Why not contact BabaSupport experts?
Dual displays errors are kind of a known problem with the release of Windows 10 Fall Creator Update. If you are not able to fix it, give a call on BabaSupport Number: +1-888-796-4002 and they will guide you through. They are always available to make things right. You can also join them on or BabaSupport Live Chat Portal to avail the instant fixes. Also, you can drop down a mail at the mail ID [email protected] and let the experts take care of Windows 10 not detecting second monitor issue.