Struggling with resetting your computer? This is not a new trouble while accessing HP laptop. Although it is quite a recommended option, the process is not so simple as it appears. In order to make you access the ideal ways to answer the question of how to factory reset HP laptop, here are some sorted out solutions.
How to factory reset HP 15 laptop Windows 10?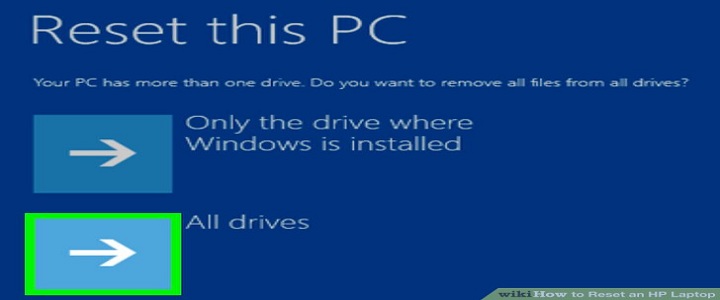 Windows 10 is the latest updated operating system that is used in all the latest laptops. However, the version at times creates a number of troubles when it comes to any kind of alteration made into the system.
Check them all out and see which one works the best for making you overcome the trouble. To know how to factory reset HP laptop Windows 10, there are quite a few numbers of solutions available. However, in order to find out the most updated and reliable ones, here are some-
Before starting on with the fixing part, make sure to backup all the important documents. You can use any hard drive externally or USB drive to do the needful. It will keep your data secured and at bay from getting lost.
Thus it is important as you can lose any of the files that you have not synced. It is because the resetting makes all the changed settings back to default ones. Thus, you might as well go on with rearranging your settings and documents back into place as per your wish.
You can also seek our tech help for creating a backup of your files thereby, not losing any information. Our team is quite experienced in this field and will be able to assist you in a better way.
Now, coming to the solutions part, here are some easy steps that will help you to reset your Windows 10 system-
This Is How To Factory Reset HP Laptop
Step 1
Click on the Windows logo or the start button located on the far left corner of the taskbar.
Step 2
Select settings option that has its icon shaped like a gear and it will display option like Cortana, gaming, easy access and last but not the least "update and security".
Step 3
Click on the last option and select the recovery option. And after that select the "get started" option that will direct you to the option for resetting the system completely.
After clicking on the reset option, it will show the last option for choosing between keeping the files from the saved ones or remove all of them. You have to make the right choice according to the needful. This may as well help in getting rid of the error completely.
Out of the many laid out resolutions to overcome a certain technical glitch, there can be as many possible solutions that work well for individual preference. However, it is more than necessary to get the right kind of solution that will work best for your benefits regardless of your error.
In that case, the above methods can be greatly beneficial to make you know the exact way of how to factory reset HP laptop. This should readily help to you to get the answer for how to reset HP laptop Windows 10 to factory settings.
Connect With Our BabaSuppo
rt Unit For Reliable Solutions

Try out all the steps and see which one is the ideal solution for resolving your error. Do not forget to comment down below with the solution that worked best for you that may help to enlighten the other readers as well. At the same time, you can get in touch with us via:
Call Support: Call us at our BabaSupport Helpline Number:  +1-888-796-4002  and avail easy and quick solutions.
Chat Support: You are also free to chat with our tech experts for instant troubleshooting solutions and guidelines.
Email Support: Drop us a mail about all your queries and problems. We'll get back to you in no time.