Like most of the modern laptops, Toshiba comes with preinstalled latest Windows version. The manufacturer configures this according to your system interface, popularly known as UEFI. However, when the UEFI is enabled in your system, you may face the Toshiba Laptop Error Code 0xc00000f.
Encountering an error message like this leaves most of the people with nothing but only confusion. Our proficient software specialists decode this sort of error code on daily basis. The error is related to the Windows Boot Manager. When the system tries to load the configuration data, it shows you this error message. This is when you encounter Toshiba Laptop error code 0xc00000f asking you to repair your system.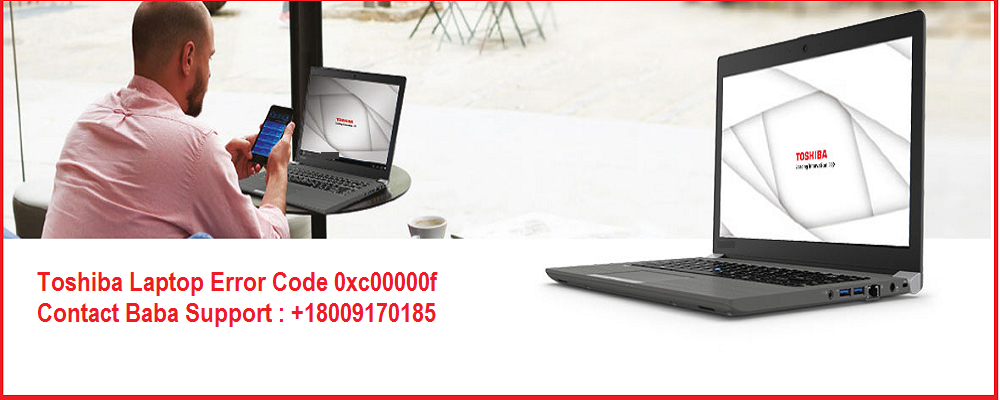 If you want to resolve the issue as quickly as possible, then directly get in touch with our experts. Baba Support consists of highly trained software specialist and certified engineers which provides best Toshiba Customer Services. They work round the clock, so that, you get the most reliable solution each time you choose us to resolve the issue for you.
Why Is Windows Getting Error Code 0xc00000f?
While loading Windows, the boot sector is essential to perform the task. In case the boot sector gets corrupted, then this problem will show up too. There are other notable factors that might cause this issue in your system. For instance, hard disk failure is one such cause. Moreover, if the boot sector is attacked by malware, then it will also prevent the system from booting up.
Fix Toshiba Laptop Error Code 0xc00000f In Quick Steps
You can try simple fixes to resolve the issue on your own. But this is an issue related to BIOS problem, so dealing with this matter might require a strong professional touch. In case you are not comfortable with the technical things, then connect with us.
However, you can follow the steps mentioned below. Completing the steps should resolve the issue in no time.
When you face this issue, Windows will ask you to perform a system recovery. So you can run the system recovery wizard. To do that, you can use a recovery disk or a bootable disk.  Restart your system by pressing the action key to load the BIOS Window. Then select your disk as a first boot device.
Use Bootrec.exe Tool To Repair
You can fix the problem by using the Windows bootrec.exe tool. However, in this process, you will also need a bootable device. By using this tool, you can control Boot Configuration Data.
Restart your computer, use the bootable disk to enter into BIOS and then press any key if prompted. Select the date, time and language and press next to continue. When directed to the system recovery option, select command prompt from the option.
In the command prompt Window, type bootrec.exe and press Enter. It will recreate the BCD, after completion of the process your computer will come back into normal mode.
If this didn't solve Toshiba Laptop Error Code 0xc00000f, then you need to delete the old BCD and create an entirely new one in order to have a fresh boot configuration data.
Reinstall the Windows Operating System
If nothing works out for you, then you need to reinstall the operating system from scratch. If any of the components of the system is not installed correctly, then you may face this issue. Reinstalling the operating system can resolve the issue.
Let Us Resolve The Issue For You
Fixing the issue on your own is nothing impossible but it will take a lot of time and effort. If you want to get rid of the issue quickly, then talk to our experts and resolve the issue instantly. All you need to do, dial our 24/7 active helpline number: +1-888-796-4002 or chat with Baba support executives. We promise to resolve the issue as quickly as possible.